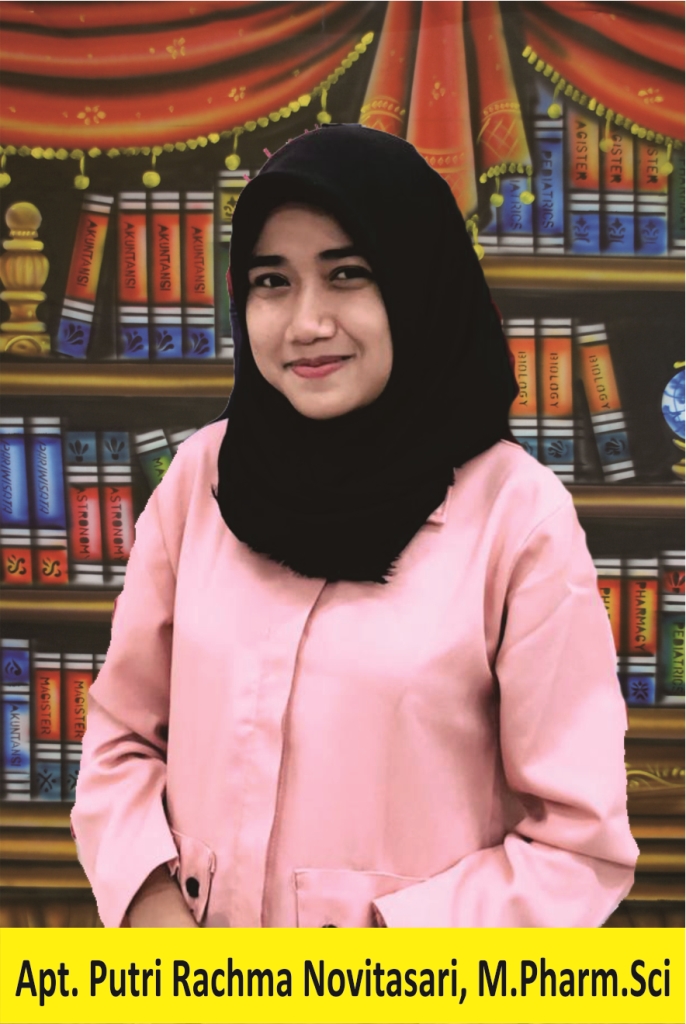 Apt. Putri Rachma Novitasari, M.Pharm.Sci
Lecturer
Research Topics In General: Natural Product Development and Formulation
Current Research Interest: Natural product formulation and its mechanism; Discovery and Development of Antidiabetic Agents from Natural Product; Diabetic ulcer herbal formulation
Description :
Collaborative research with the Dexa Laboratories of Biomolecular Sciences (DLBS) for provision of research facilities.
Grant research with other institution of Hibah Program Asistensi Riset 2019".
Grant research of "Kopertis Wilayah V dana DIPA 2015."
Representative Publications :
Putri Rachma Novitasari, Novia Tri Astuti, Suwijiyo Pramono, Raymond Tjandrawinata, Agung Endro Nugroho. 2020. A Simple Liquid-Liquid Fractionation (LLF) Method for Isolating Deoxyandrographolide dan Andrographolide from Herbs of Andrographis paniculata (Burm., F) Ness and Its Cytotoxic Activity on 3T3-L1 Preadipocyte Cells. Journal of Food and Pharmaceutical Sciences. Volume 8/ Number 3/ Year 2020. Available from: https://journal.ugm.ac.id/v3/JFPS/article/view/875.
Kintoko, Putri Rachma Novitasari. 2016. Studi in Vivo Efektivitas Gel Ekstrak Etanol Daun Binahong (Anredera cordifolia (Tenore) Steen) sebagai Penyembuh Luka Diabetes. Proceeding of Mulawarman Pharmaceuticals Conferences. 3:253–64. Available from: https://prosiding.farmasi.unmul.ac.id/index.php/mpc/article/view/117.