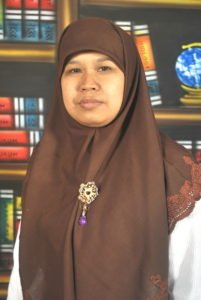 Prof.Dr. Nurkhasanah, M.Si., Apt.
Professor
Research Topic In General:
Drug development from natural ingredients
Current Research Interest:
Development of tapak liman extract (Elephantopus scaber Linn) as a chemoprefentive against breast cancer
Study of the mechanism of antioxidants and immunomodulators of bengle extract (zingiber cassumunar): in vitro and in vivo
Development of Roselle Fortified Youghurt (Hisbiscus Sabdariffa, L) As Functional Food To Increase Immunity
Description:
Some research that is of concern is the development of drugs from natural ingredients for cancer, anti-inflammatory, immunomodulators and antioxidants.
Several grants have been obtained from the Ministry of Research, Technology and Higher Education through the Postgraduate Team Research Grants (2013-2015), Applied Research Grants (2015-2018) etc.
Representative Publications:
In vivo effect of sub-chronic administration of ethanol extract of Rosella (Hibiscus sabdariffa ) calyx on total blood cholesterol, triglyceride level, and heart histopathologic profile, International Food Research Journal 25(3): 1253-1257
The increasing of catalase activity in dimethylbenz-α-anthracene (DMBA) induced rat treated by Hibiscus sabdariffa L extract, Pak. J. Pharm. Sci., Vol.31, No.3, May 2018, pp.849-856
Effect of rosella (Hibiscus sabdariffa L) extract on glutathione-S-transferase activity in rats, Tropical Journal of Pharmaceutical Research 2017; 16 (10): 2411-2416
Chloroform fraction of ethanolic extract of Elephantopus scaber increase the p53 expression on human breast cancer (T47D) cell line, Pharmaciana, 2017, Vol.7, No.2, Nov Hal. 141-146
Acute toxicity test of Rosella (Hibiscus sabdariffa L) Calyx Ethanolic Extract on Sprague Dawley rats, Trad.Med., 2016, Vol 21(1):12-18